Our studios also provides wedding videos. Our standard video package ends up to be approximately a one-hour edited video, with some background music occassionally added (3-5 songs). Feel free to send us your suggested MP3's to use. We make it like a docu-story and it is a great keepsake of this special day. The final video is tightened up from the raw footage with smooth transitions and audio mixing. We supply you with 5 DVDs (or three DVD's and 2 VHS). Finished movies also include opening and closing titles, chapter points, and auto-play DVD mastering. DVD's also have a custom designed laser etched label, and custom designed Full Color DVD Cases (3).
You also get the original raw mini-dv tapes if you want. Our post-production time equals and exceeds the time we are on-site filming the event.
Standard Package is $1250.00 as described above. Washington DC Area and eastern Maryland weddings require an additional $375-$500 travel fee. Due to the difficulty and time consuming nature of re-editing you have to trust us to be creative and deliver a quality product. We have never had any complaints.
Send for a sample Wedding DVD. (We sometimes charge a $15 service fee if the sample is not returned).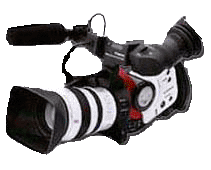 We use the professional quality Canon-XL1 (pictured)

Deluxe Package
Digitally edited videos utilizing the latest in digital editing technology, software and creativity. These tightly edited videos feature your favorite music, multiple overlay soundtracks blended with the original soundtrack, nice transition effects, childhood and engagement photos, titles and more. (You may supply us with 20-30 digital images at least 720X480 pixels in size, or photos to scan). You can also supply us with audio tracks (MP3's work best). Final movie is approximately one hour.
Deluxe Packages start at $1,500.00
DVD Authoring with Menus is add'l $200
Mini Highlight Movie for Web Viewing is add'l $200
(We host the web video for one year included)
Second Cameraman add'l $450
Now Offering Video and Still Photo Packages!
This is a great way to have the best in wedding videos.
We edit in some of the great still photos into your video for a fantastic final Wedding Video at no extra charge. Package is $2,295.00
Washington DC and Baltimore Wedding Photography?
Why spend the big big bucks when you can bring us in to do
a great job...for less. $2,795.00 (includes travel) for both wedding still photographer and videographer. This is the best deal around.